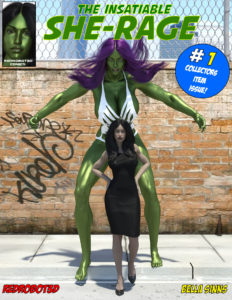 Redrobot3D and Bella Sinns Media Proudly Present
"The Insatiable She-Rage"
It's been another long night of taking down the world's worst villain for mild mannered Katie Tanner. Looking for a way to relieve her stress and get a good work out in, Katie heads to her local gym.
While there she encounters two young and handsome men that are more than willing to get hands on with the nubile young woman. Unbeknownst to them however that Katie is harboring a huge secret. She is the one and only Insatiable She-Rage! When the blood gets pumping in her veins she becomes a one woman army and nothing is going to stop her from getting a good fuck to cool down her sexy green skin!
Now at the mercy of the emerald skinned titan, the young men will have to fuck, suck, and tag team this heroine of epic proportions to her satisfaction. Will they be able to withstand her super human endurance for sex? Or will they falter and leave the world at the mercy of this unstoppable giantess of lust?  Find out in "The Insatiable She-Rage"!
"The Insatiable She-Rage" marks the 15th comic and  is the newest release by bestselling artist Redrobot3D. It is also a collaboration with sensational erotica writer Bella Sinns.
This comic is a sexy parody for all you comic lovers out there! Enjoy!
What's included:
Number of panels: 58
Panel dimensions: 1900×1500
Format: PDF
Size: 18.3 mbs
You can purchase this comic for [email protected]
redrobot3d.com/store/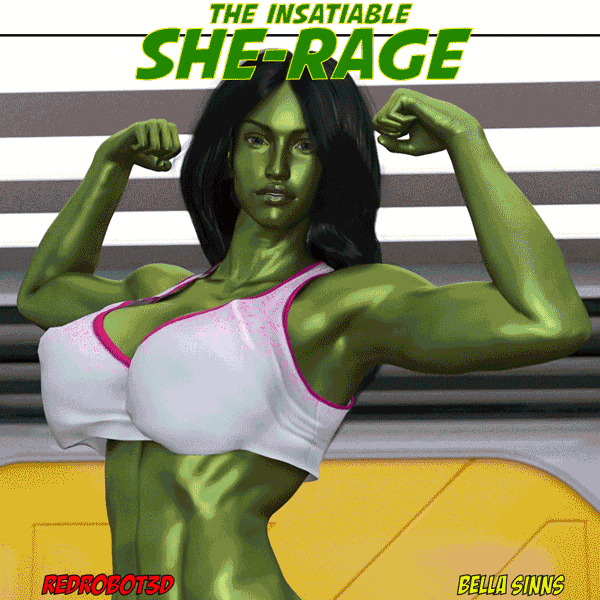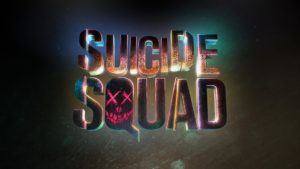 Redrobot3D movie review: Suicide Squad
General impression: Was a fun watch and worth the 5.00 I paid to see it. The story had some plot holes for sure, but as a comic book movie it was entertaining. The characters were represented well. I was a big fan of Deadshot and Will Smith's performance leaves a lot of room for  growth in what will be a string of sequels. Margot Robbie's Harley Quinn stole the show in whatever scene was in. I do feel that a lot of her back story was left on the cutting room floor. I'm hoping that an R-rated extended director's cut will give us what this film was suppose to be before the studio had their way with it. Let's keep our finger's crossed.
Surprised performances: Jai Courtney's performance as Capt. Boomerang. I've always liked Jai but felt the roles he's been given haven't been the greatest. If you ever watched "Spartacus:Blood and Sand" you'll see what he was capable of.
Unexpected Performance: Cara  Delevigne. God-damn this girl is hot! Enough said.
Our next interview in the Redrobot Artist Collective will be coming soon. Anagord is sending me her promo images so once that is in I'll be posting up. I'm already getting started on the next comic for both members and visitors. Keep an eye out for info on that coming soon!