The factory here at Redrobot3D is continuing to grow and expand with each new artist that we welcome into the fold. It has been an eye opening experience as we've been able to sit down and get to know some of the brightest minds in the 3DX field working today.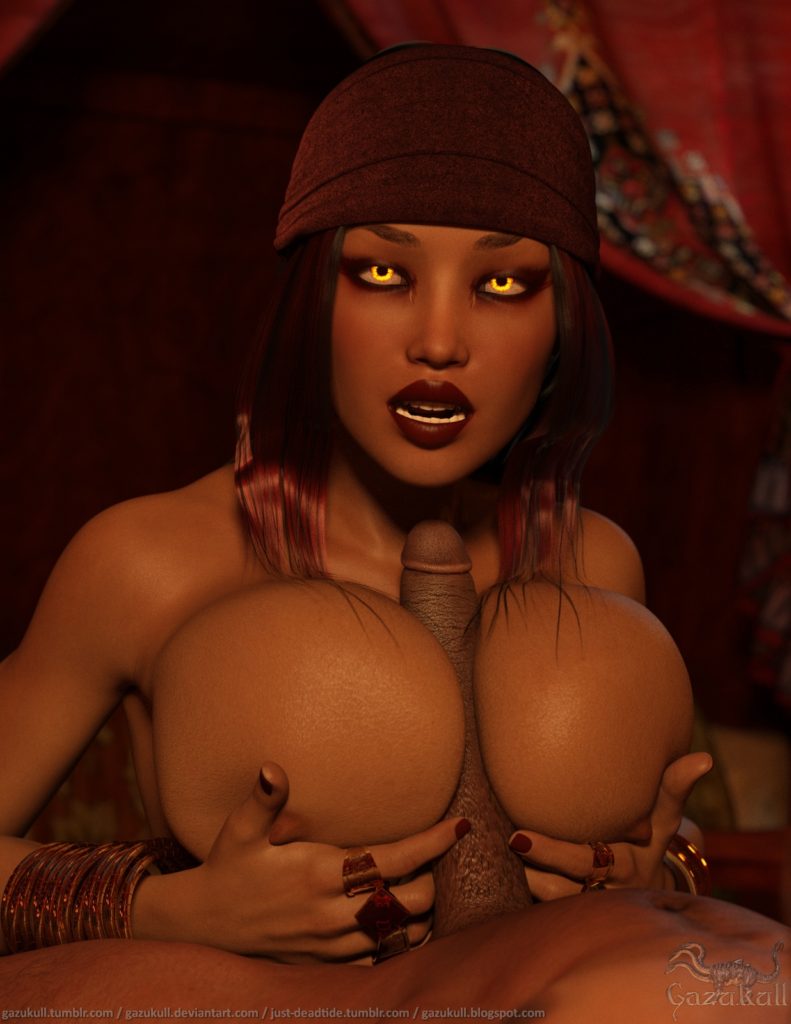 This week we have the pleasure of talking to Gazukull, the author of the ongoing series "Dead Tide", "Love can Bloom", and "Medicine Woman". What first got me interested in Gazukull's work was his eye catching style, storytelling, and character design. Outside of his comics, he has gone onto incorporate animation into his work as well, setting himself apart from strictly 2D artists.
Once again, sit back, grab a drink, and read what one of the innovating minds in 3DX has to offer. You might just learn a thing or two!
Hello! First of all thank you for taking some time out to sit down and speak with us here at Redrobot3D. We appreciate it wholeheartedly!  
Yeah dude!  It has been several years since the last time I did an interview and I have changed a TON of stuff in my workflow… primarily the switch from Poser to Daz Studio.
What were your first steps into the 3DX world? How did you come across it? 
Not to date myself, but sometime in 2000, I found Renderosity and Wyrmmasters gallery and I was already obsessed with tits.  So getting behind a system to create your own epic tit images seemed the natural evolution.
What were some of your initial reactions to some of your early work? 
Lot of hate really.  Back then, on Renderosity, there were roving bands of slackjawed yokels who would only comment on images to denigrate your choice in tit size.  Also, my technical skills were pure shit and the software I was working with (Poser 3) was pure shit, so possibly they were onto something.  It is way too much of a pain in the ass to post there.  I mostly post on Tumblr these days.  Deviant Art too, if it isn't pornographic.
When did you decide to start making original comics? 
Apparently I posted my first comic on Dec 3rd 2001, Sinclair Voluptuous Space Captain.  A story line that I often think about going back to.  It was so fucking stupid.  
Who were some of your main influences?
Back then?  Porn and Wyrmmaster.  Porn back then, was still in the Golden Age of Gonzo, when mofos still bought DVD's and porn producers could afford to pay for scenes like Brandon Iron's Bakers Dozen series.  I don't think we will see it's like again, unless the world collapses or some such.  But then it would be like bukkakes in gladiator stadiums, with the cheers of adoring fappers!  Or perhaps that is just me projecting.
Did you have any formal art training? 
I do!  My parents, who were very poor, scraped enough money together to send me to the Academy of Arts for summer classes when I was growing up.  What I learned there, is that I should stick to STEM and go with what you are good at.  My previous career was as an engineer; I am now retired from that work.  Even with training, I couldn't draw a stick man, let alone a mad tentacle gangbang.
What is your current PC set up like? Did you build your own PC or was it professionally/custom made? 
I actually have a very robust rendering network.  For most animation work orders, I still use Poser Professional 2014 (much better animation tools than Daz Studio).  That work is done primarily on three systems.  One host with four 780 Ti connected to two other boxes with four cards each.  That allows me to leverage 12 cards at a single animation task using Otoy's excellent Octane Render.  The other 8 cards are just regular 780 GTX.  For most of the Daz Studio work I do, I actually do it on an Alienware 15 R2 with a 970M.  It allows me to do most of the staging work, which I then batch render on a meager workstation that has 2 780 GTX.  Iray seems to cope much better with just two GPU's vs Octane which can handle 12 no problem.  Essentially, if Render engines were chicks and GPU's big throbbing cocks, Iray would be Michelle Barret and Octane would be Arwen Gold.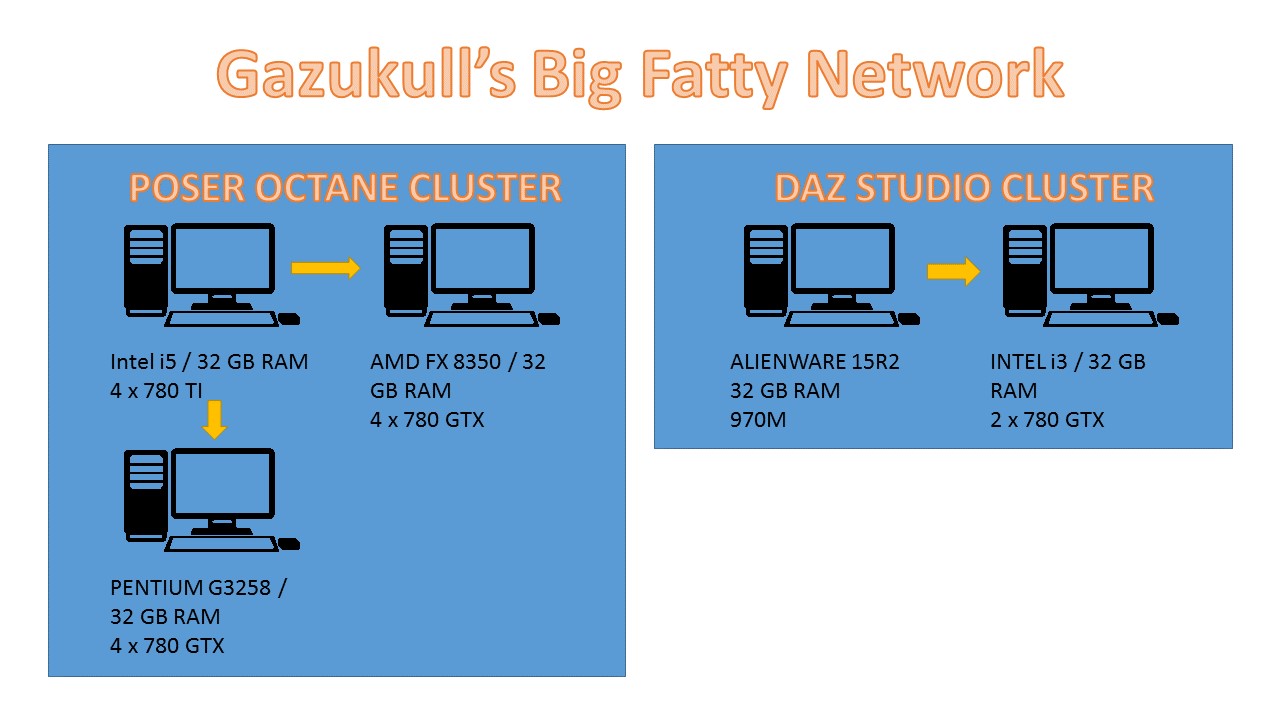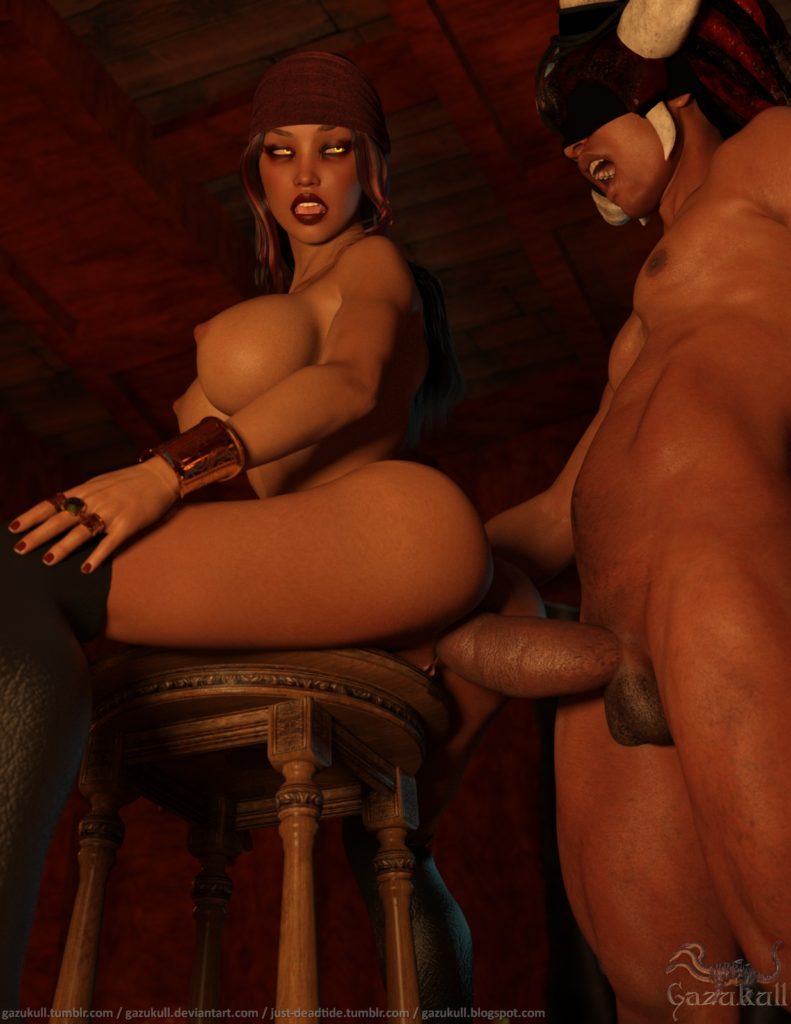 For animation, create the scene, make the characters, then animate them, corrections in Zbrush, then push to Octane for the orgy of rendering and eating electricity.  For still work, generally I use Daz Studio to do the above, minus the animating part, then use Iray within DS, because it's the tits.  THANKS DAZ.
What are some of the main programs you use in setting up your work?
Daz Studio, Zbrush, Poser, Photoshop CC, Comic Life, Premiere Elements (pro too pricey!)  
What have been some of the major hurdles you've encountered in creating your work?
It doesn't make itself.  Making the mind's eye into an image, even with excellent software takes time.  If I could paint up a college girl, who needs the money, up like a drow and then have her do anal with some schelp with a horse cock and have it look good, I would.  But 3DX is basically the frontier for that sort of thing.  I mean, I am doing a comic about a huge titted vampire pirate who hangs out with a former mermaid and a skeleton.  You cannot exactly do that kinda porn with real actors without major funding… then to have it posted on Pornhub 30 seconds after you release it.
What are some of the pitfalls you wish you could've avoided looking back on it now? 
NUMBER 1, keep that runtime tidy!  I use 1 runtime for just character assets, 1 runtime for settings / environments and 1 runtime for creatures.  You will thank me later.  Or not.
What are some things that you would want to tell other artists getting into the business to look out for? 
I suppose, if you cannot fap to your own work, then you probably shouldn't ask people to pay for it.  
Where do you see yourself in the 3DX community in the next 5 years? Is this a business you want to stay apart of as you grow as an artist? 
Probably just telling the stories I want to tell.  It would be much faster if you could just teleport the images out of my head…
There you have it folks! Another amazing insight into the minds of 3DX's top talents. Now get out there and do some art!