The Redrobot Factory
An artist is only as strong as the community they surround themselves with. Sure an artist who is dedicated and hardworking can be successful working independently. However when you find yourself working with other creative like minded individuals, that thrive to improve one's work grows.
Artists throughout the centuries have banded together to from collectives or joined schools. The Bottega was the work space of classic painters, sculptures, and architects working under the patronage of the church or wealthy families in the area during the renaissance. However with the dawn in the internet and digital communication age, the artist today has an entire world from which to receive feedback, communicate, and learn. Artists aren't huddled away in a school in some far off land, they're now communicating worldwide with one another and constantly pushing the craft.
In keeping with traditions laid out before me by the artist of yesterday I've set out to create a collective of my own. The Redrobot Factory will be a gathering place of the very best in the growing world of 3DX, Animation, VR, modelers, and interactive media in the adult market place. In the coming months expect interviews, life stories, and experiences of some of the top talents working in the exploding world of 3D adult entertainment.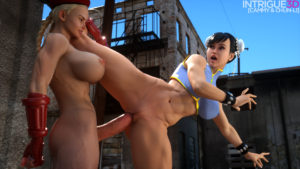 This month we are proud to have with us none other than the 3DX sensation, Supro.
Hello Supro! Welcome to the factory. If you could tell us a little about yourself.
When did you first hear about 3DX?
Before the term 3DX came, I (and probably many others) used to call it 3D Hentai. And the most prominent artist at the time was Umemaro. I honestly love his works. They were amazing. Hot girls fucking in 3D. What more could you ask for? Eventually, Miro came along and I was inspired to really work hard on creating my own brand of 3DX.
Were you already working in art or had an interest in a career in art?
I did have an interest in becoming a cartoonist or a game designer, but I didn't pursue it as the cost to do so was way out of my range. Once I learned about Poser (and eventually Daz), I decided to jump into that area. It started off as a hobby, but eventually became bigger than that, which is why I'm still doing it.
What kind of tools do you use? Is your set up custom built or a factory model?
I currently use Daz Studio, zBrush and on occasion Realflow.
With my rig, I recently got a custom one done by Digital Storm. My last one was built by me, but I didn't have the energy or effort to do it. So I ordered one from them. While there's a few hiccups (no system is perfect)
Where you hesitant about getting into the field?
Not really. I thought it would be fun to try. I mean, you create your characters and have them do whatever you want. And most of the time, it's fucking. 😀
What were some of your initial attempts like? What mistakes did you see yourself having at the beginning?
Those days, huh? They were not my best. Originally I didn't know what the fuck I was doing. Renders looked too shiny or I needed to photoshop them to death. It was a mess. Once I was able to use different render engines, I was able to adjust and create better artwork.
I should also mention that without Zbrush, penetration would've been ugly.
What were some of your first success stories with working in 3DX?
My first success story was the release of my first title Lana Loves. I tried to make my first title for a long time, but things weren't clicking. But once I was able to finish this one, I knew I had something special.
When did you realize that you could make a living and build a career working as a 3DX artist? What are some of the hardships you've come across working in this field?
I dunno. I wanna say after the release of Kiara's Debut, I felt that this was a crowning moment for me. Once I saw that title and the positive reception it received, I felt extremely excited about my future in 3DX.
Commonly, hardware and software failure are usually the culprits. But I also dealt with real-life illness, which affects me to this day. It's very difficult to work when you just don't have the energy or urge to do so. But when I have the energy, I try to get as much done as possible.
You have created many characters (such as Lana, Zoey, etc) that have gone on to almost have a life of their own in your titles. What were some of the origins behind them? Did you think they would have become as popular as they are now when you started?
I can't remember much about the origins of Lana. Originally, I did a few renders of her. Just some simple nudity. Once people gave me positive feedback, I decided to do more and eventually used her as the centerpiece for Intrigue 3D. The whole "Anal only" thing came up much later in the life cycle. I blame the name. 😀
With Zoey, I do remember doing a really old pic with her before she had a name. But when I was looking for something to do for a contest, I decided on using her. People love the look of the punk girl and wanted to see more, but I didn't really use her much for about a year after. I did fall in love with the character once I tried using her again and found that there's something special about her, which is why you see way more often than previously.
Where do you see 3DX, yourself, and your career in the next 5-10 years? What would you expand upon?
That's tough to say. I think I'll probably be still doing this for as long as I can. When I started working at Affect3D, I didn't think I would still be doing it. But here I am. Hopefully I can get further into making more 3DX stuff like animations, models, and whatnot.
If you could go back and fix mistakes in your past what would it be?
Oooh that's a tough one. I would say a lot of things to my younger self. I think the main one would be don't get frustrated. I remember how I used to get really mad when I couldn't solve an issue. But eventually, I learned that by keeping calm, I can find a solution faster.
We here at Redrobot3D want to thank Supro for taking time out of his business schedule to speak with us. We learned a lot from one of the best artists in the 3DX field.  We got plenty more interviews coming up! Stay tuned!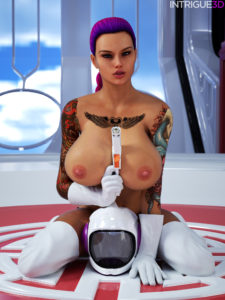 Sign up for more Red Robot 3D updates
Sign up to get updates on new interviews and updates on content!