Redrobot3d and Senshi Publishing Proudly Present
"Interspecies Communication 2"
It's another boring night alone up in space. Metsa, a young easy going explorer, takes some much needed time off from her duties to catch up on her social media. However, when an ad appears on her newsfeed promising a more entertaining way to pass the time, she finds the offer is too good to refuse!
Metsa orders the newest in the line of sexually orientated manufactured organisms (SOMOs). This horny multi-limbed aggressor takes no time in getting Metsa good and horny before having its way with her over and over again in the crewmen's cabin! Will Metsa be able to withstand the nonstop sexual adventure with her new alien friend? Find out in "Interspecies Communication 2".
Interspecies Communication 2 is the next chapter in the ongoing sci-fi erotica adventure started by 3DX artist Redrobot3D. Joining him this time is up and coming French erotica author Camille Juteau of Senshi Publishing. Together they forge another heart stopping, sexual fueled thrill ride set in the deepest, darkest sectors of space.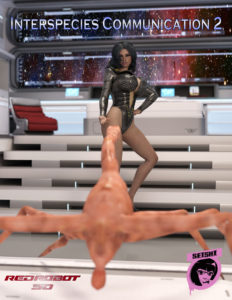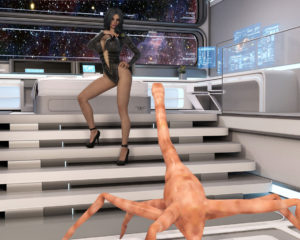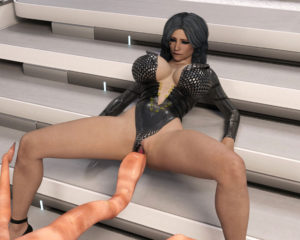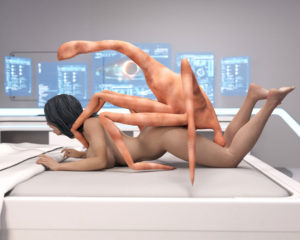 What's included:
Number of images: 66
Quality: HD
Format: PDF
Required program: Adobe Acrobat Reader, or any similar program that opens PDF files.
Members will get first access to the comic before it is set up in the general store for $11.00
Here at Redrobot3D we strive to bring you the best 3DX titles available each month. Me and Camille (with special thanks from Bella Sinns) put a lot of time into this newest release. Being such, sometimes not all the material in the script makes it into the final release. We decided that it would be a special bonus for all members to see the deleted scenes that don't make it into the final product as a bonus for your membership.
In the original script, our heroine Metsa, was introduced to another SOMO (Sexually Orientated manufactured Organism) in the guise of a robo cowgirl. The robo cowgirl appears in some of my earlier pin ups and we thought adding her to the comic would help elevate it. However as the story progress she took away from the main focus of the character and her alien encounter. hence her scenes were removed.
These deleted scenes will only be available here for subscribers to the site and no where else! I do have plans for the robo cowgirl down the line for her own set of adventures. Stay tuned!