Over the past couple of months we here at Redrobot3D have had the generous opportunity to sit down and talk to some of the most creative minds in the 3DX world. We've gained an incredible insight on the creative process of storytelling in the expanding digital age.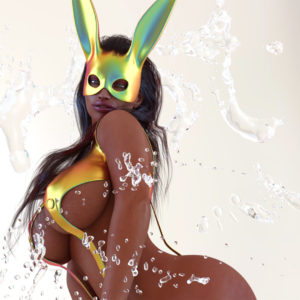 This week we have the chance to sit down with our first fully fledge content creator. We welcome Anagord to the factory and look forward to what she has to say about the industry, her thoughts on being a professional 3D modeler, and her thoughts on the 3DX field and what it means to other people working in the business.
I first came upon Anagord on Renderosity with her amazing texture overlays. As I've watched her work over the past year I saw that Anagord brought some added sexiness to the products. Since then Anagord has begun creating original characters, pose packs, and morphs, expanding her repertoire.
Take a seat, grab another drink and listen to what this amazing creator has to share with us!
What were your first steps in the 3D world?
First of all hello to all and BIG THANKS to Redrobot3D for taking me for one of his interviews. My first steps was actually texturing. I kind of liked it at first since it gave me an opportunity to design clothes just the way I want, to express myself. I've started with warriors then I've moved to sci-fi, sexy, fashion. Everything I like! 🙂
Did you have a background in modeling or animation before you started?
No I didn't. I started this as a hobby but over the years I learned and got better. 🙂
What are you processes on beginning a project? Where do you draw your inspiration from?
It depends. Sometimes I spend days thinking of a project and sometimes I start immediately. It depends on inspiration I have in that moment. I am that kind of a person that everything can actually give me some sort of inspiration. Art, TV, and music! 🙂
You've developed very unique characters on Renderosity. Often breaking the mold of the traditional model-esque figures to make some rather voluptuous and curvy models! Where did the ideas come from for them?
First of all I am very glad you like them hehe :). I have always liked voluptuous models. You can see the warrior girls in art that they are real women. Their bodies are not thin, nothing is thin. I liked that kind of a body shape. Never wasn't big fan of too much thin like models. 😀 So then I have decided to try with those shapes in fancy and sexy style, to see how people will react on that. I was trying to make something different. 🙂
Tell us a bit about your work process. How do you get started on your figures and texture add-ons? What programs do you use for those?
As I said it depends on inspiration. For example when I was making warriors add-ons it always took me few days just to scratch on the paper designs, to think about them. Then I use Photoshop and Poser or Daz Studio. Fashion and sexy style were easier to work on since on those styles you can use every single color you want, style, material, etc. 🙂
Are you using a custom built computer or a pre-packaged one?
Packaged one of course lol You can never buy a computer that has everything you want. 😀
Do you have any plans on creating original costumes or sets in the future? If so, what do you have in mind?
I have started slowly to learn making clothes. I won't release anything until the quality is where I want. On my mind is fashion stuff of course. But shhh for now 😀
Do you feel that 3DX (erotica) can co-exist with mainstream 3D? If so, what are your thoughts on it?
I would love to see something like that. Of course it can. I think everything is art and people should express themselves in any way they want. You look every day digital art. For example "Legend of the Cryptids". There's a lot of tasteful art in fantasy and erotica! 🙂
What were some of the hardest issues you had at the beginning of your career in 3D modeling? How did you overcome the steep learning curve?
I didn't have a lot of issues when I started it as a hobby. Learning was a bit slower and came with patience. It's became difficult when it became my profession. You want everything to be as perfect as it can be. You can always experiment with different designs. Other times ideas just appear. Sometimes the ideas just don't click with you. With hard work and experience you gain that self-esteem and knowledge that makes you feel more confident about your work 🙂
Where would you like to take your work in the next couple of years?
In the 3D modeling. That's for sure! 😀
Who are some of your main inspirations in terms of art?
I have no names per say but all of the awesome artist who worked on the cards for "Legend of Cryptids". Those people are freakin' awesome! You can see a lot of profiles there. Artist who likes demons, angels, warriors, princesses,etc. Just BEAUTIFUL!
What would you tell younger artists starting out in 3D model? Any words of wisdom?
I can only say NEVER EVER GIVE UP! If you are not prepared to learn a lot don't expect anything! Be unique, be hard working, be who you are! 🙂
You can find Anagord's store at Renderosity here:
https://www.renderosity.com/mod/bcs/vendor/Anagord