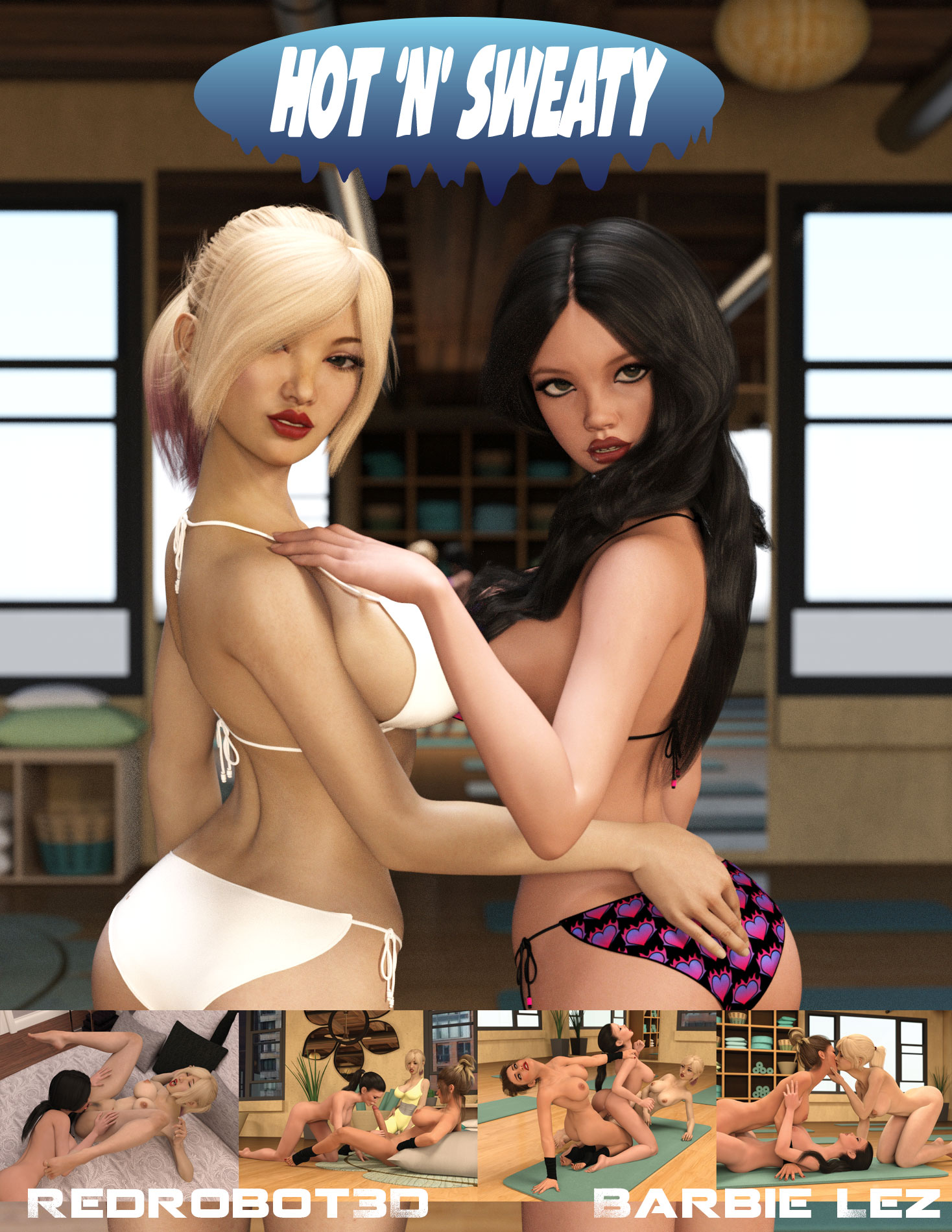 Greeting folks! I hope April is finding you well. We got a brand new comic release here at Redrobot3D So lets get to it!
Redrobot3D and Barbie Lez are proud to present
"Hot'n'Sweaty"
Part One of "The Lil'Barbie Birthday Trilogy".
"Lil'Barbie is celebrating her 18th birthday with her sexy girlfriend Candy. After a wonder morning of oral sex, Candy informs Barbie of a special day she has planned for her special day. Lil'Barbie is hoping that Candy has picked up her hints of having a threesome, but is instead taking to a boring old yoga class!
After and exhausting sessions of stretches and poses, the two girls are asked to stay after class by the Hot Yoga teacher, April.  It turns out Candy has picked up on Lil'Barbie's hints and has invited the well hung futa babe to join in on their adventure! April shows the two girls what a real practitioner of Yoga can achieve with amazing poses, stances, and a huge cock. The two girls are going to really get a workout after this session!"
"Hot'n'Sweaty" is the brand new collaboration between 3DX artist Redrobot3D (Helen Black, Cara Lox, Tales of Hallow) and erotica writer Barbie Lez (Patient 33, Cara Lox). This comic features an erotica array of lesbian/futa action in all your favorite yoga position.  If you're a fan of sexy young women and hot futa girls than this comic is for you!
This image series comes in a PDF format. It's compatible with Adobe Reader 9 and above.
File size: 26mbs
Image resolution: 1920 x 1080
Rated X for Mature Adults.
This set of images contains sex scenes and is only for mature audiences.
Of course this comic is available to download for all Redrobot3D members.
To purchase this new comic for $9.99 please head to www.Redrobot3D.com/store
This was a very fun project to work on and I actually learned quite a bit doing some original 3D models for it. If sales are good we have plans for 2 follow up stories featuring this lovely ladies! If you're interested in seeing an original story with them please feel free to contact us at info@redrobot3D.com and we'll work something up for your personal taste!
Thanks a lot for stopping by.